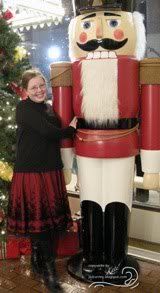 Deirdre at Ballet West's The Nutcracker
December 2009 in the foyer of
The Capital Theater in Salt Lake City.
D has been attending
Ballet West
performances since she was 3 3/4 (Sept. 2000) and is a season ticket holder. She has also been to at least a half-dozen concerts by The Moody Blues, and though she doesn't really remember it, the "Old Friends" concert by Simon and Garfunkel on July 4, 2003. She is a season ticket holder to the Utes gymnastics meets as well with her favorite event being floor.
Besides all of these fine-art interests, one is just as likely to find her laughing her head off at some joke on a television sitcom (most likely
Gilmore Girls
,
Friends
, or
That 70's Show
) or playing her Nintendo DS—often at the same time. She is without doubt a child of technology.
She can be quite tenacious when she wants or feels the need to be. This personality quirk has certainly helped her maintain her high grades. Even more importantly, it has helped her maintain the high standards that she sets both for herself and others.